We are reaching out to you as a cherished supporter of Linden New Art, seeking your vital contribution to power our end of financial year giving campaign. As we reflect on another remarkable year, we recognise the profound impact of your ongoing support and the transformative experiences we have shared together.
Linden New Art stands as a beacon for contemporary art and creative expression, nurturing artists and showcasing boundary-pushing works that challenge perceptions. We have been a catalyst for artists to amplify their voices and connect with audiences eager to embrace new ideas.
To sustain our mission and propel our artistic endeavours even further, we are seeking tax-deductible donations before the end of the financial year. By donating to Linden New Art, you directly contribute to enriching the artistic landscape, fostering a culture that values creativity and embraces diverse perspectives. Together, we can ignite the creative spirit and shape the future of contemporary art in our community and beyond.
We are committed to enhancing our impact through ground-breaking exhibitions, engaging public programs, and unwavering support for living artists. Your generous contribution will make a tangible difference in the lives of artists, visitors, and the broader artistic community.
We deeply appreciate your support, and we eagerly anticipate continuing this incredible artistic journey with you.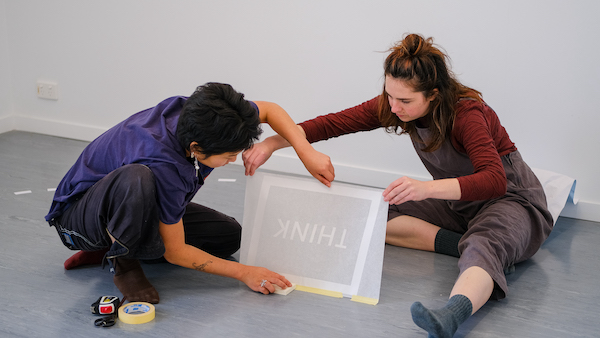 Gifts of all sizes make a remarkable impact on our growth. Here are some examples of how your donation can help us continue to deliver our mission:
> $10 brings a week's supply of biscuits to our dedicated volunteers;
> $50 purchases new paint rollers to maintain the gallery's walls and ensure that the space always looks its best;
> $100 supplies art materials and stationeries for Linden's education programs;
> $1,000 employs an artists to deliver a skills-based masterclass;
> $2,000 purchases Linden two digital screens for displaying video works and information about upcoming programs;
> $5,000 delivers an artists-led holiday program for children that introduces them to the arts and inspires their creativity;
> $10,000 develops a major publication that features in-depth essays and interviews with leading scholars and artists to provide an educational and cultural resources for the public;
> $20,000 funds a retrospective exhibition of a renown mid-career artist to promote their voice and engage new perspectives.
With heartfelt thanks,
Vincent, Liam, Keir, Shelley, Karl, Emilie & Isabel
---
BECOME A LINDEN CONTEMPORARIES
---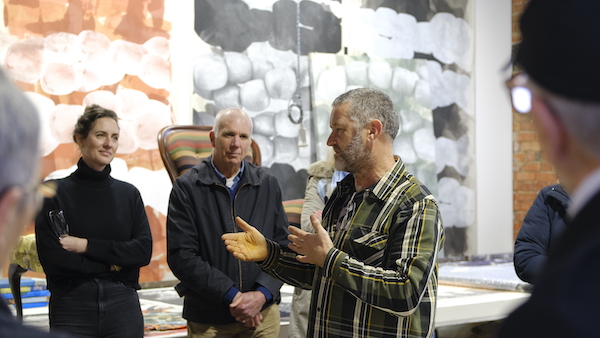 Love new art? Open to bold ideas? If you enjoy meeting and connecting to like-minded advocates of contemporary art then Linden Contemporaries could be the perfect opportunity for you. Your annual fee of $250 ($200 of which is a tax-deductible donation) will directly support living artists to develop bold new directions of their practices.
WHAT WE OFFER:
> Studio visits with Contemporary Artists and Collectives
> VIP Exhibition Preview and Drinks
> Exclusive dinner and discussion nights
> Private access to leading art collectors
> Networking and celebratory events with like-minded art lovers
LINDEN NEW ART & LINDEN PROJECTS SPACE
OPENING HOURS > FREE ENTRY
Tuesday to Sunday 11AM – 4PM
Closed Mondays & Public Holidays.
PLAN YOUR VISIT
Linden is committed to providing a safe and accessible space for your visit. Learn more about our location and start planning your visit here.
---
IMAGES > Abdul-Rahman Abdullah, Practical Magic, 2016, carved wood and synthetic rope, dimensions variable, The University of Western Australia art collection. Installation view and installation detail, Linden New Art, 2023. Photograph: Liam James. > Nell, A line of poetry [detail], 2021, walking stick, giant clam shell, gold-plated bronze, 97 x 25.3 x 35 cm, 3 parts. Image courtesy of the artist. Photograph: Jenni Carter. > Participants at Brave New Artists Holiday Program, 2023. Photograph: Shelley Xue. > Sydelle Mullen, My Womb: A Public Space, installation in progress, 2023. Photograph: Shelley Xue. > Labour Lexica, installation in progress at Linden Projects Space, 2022. Photograph: Shelley Xue. > Linden Contemporaries' event at Spacecraft Studio, 2022.
Photograph: Shelley Xue.