Welcome to 2022 and summer at the gallery. We look forward to welcoming you back to the gallery to explore our exhibitions – with well over 1,000 works on display at the moment there is a lot to see.
We look forward to seeing you soon.
Melinda, Lyn, Juliette, Linda, Hana, Shelley, Ada & Clare
---
LINDEN POSTCARD SHOW 2021-22
---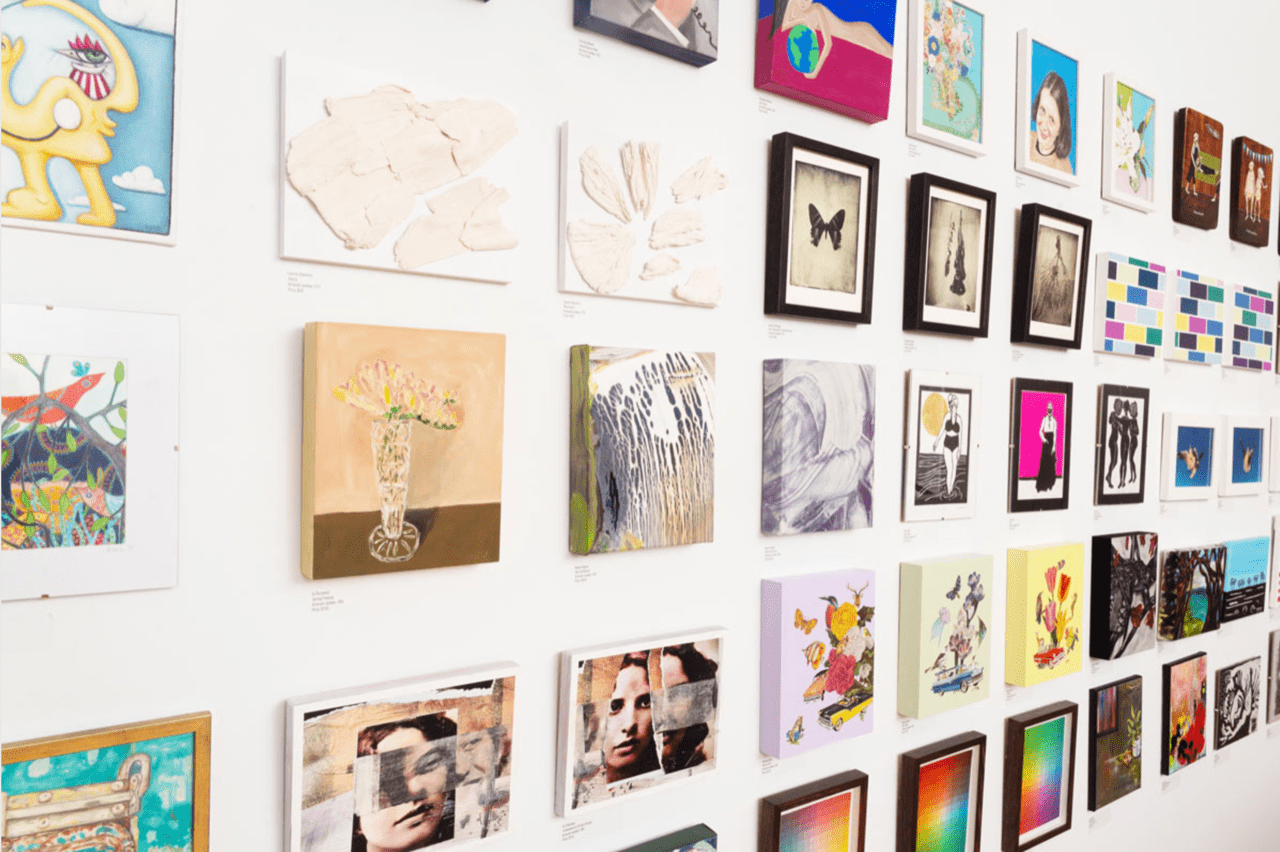 The Linden Postcard Show 2021-22 continues to celebrate the work of artists from across Australia. With over 1,000 artworks included in the show, there are still many works still available to purchase.
We would love you to come and visit to explore the creativity of artists on show. You can browse and buy works securely online.
You can visit the show until 27 February 2022.
---
ANNA HOYLE > YOUR CHOC-MINT PELVIK FLOOR IS SO BORING
---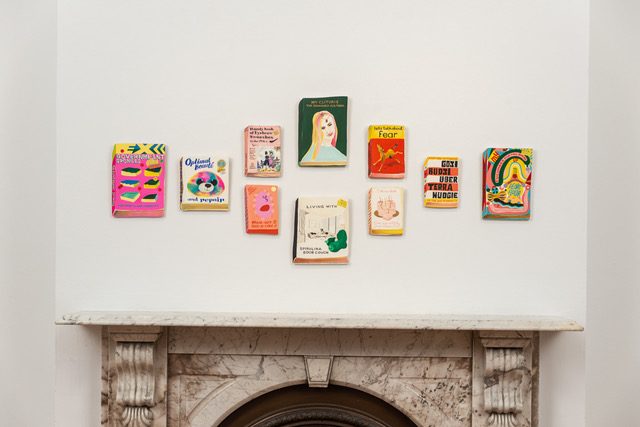 Come and share in Anna Hoyle's witty and subversive take on the health and well-being industry in the form of fake self-help books and vibrant poster-style works on paper. Anna is often inspired by overheard conversations, literature, phrases from the media and the poppy visual language of advertising. She has shared the following anecdotes about some of her works.
goji budji uber terra nudjie, 2021
Goji is after the berry, Terra is Latin for earth or land, Budji is Murri for fart, Über is German for supreme and Nudgie is an Armenian term of endearment. The visual qualities and sounds of the words are as important to the work as their meanings. The title of this work originally sprang from an in-joke among my friends relating to the name of a local organic fruit shop, which had changed its name. Often unable to recall the new name, and in order to play with the shop's intention to sound hip and of the earth, with part cynicism and part humour we would refer to it as anything like oodjie niddrie nooshtie bodgie.
she cooked tuna pasta like a depressed housemate, 2021
This work is inspired by the many share houses that I have lived in throughout my life, and some of the inexorable meals that are made in these places. I had many wonderful houses and great meals with fantastic people, but I am attracted to the fallible side of such living, and now laugh at my own inability to realise how depressed I had been at various times, this cheap lazy meal reflecting some kind of loneliness, for me.
Visit the exhibition until 27 February 2022
---
CONFINED > NEROLI HENDERSON, HERNAN LOPERA AND KATE V M SYLVESTER
---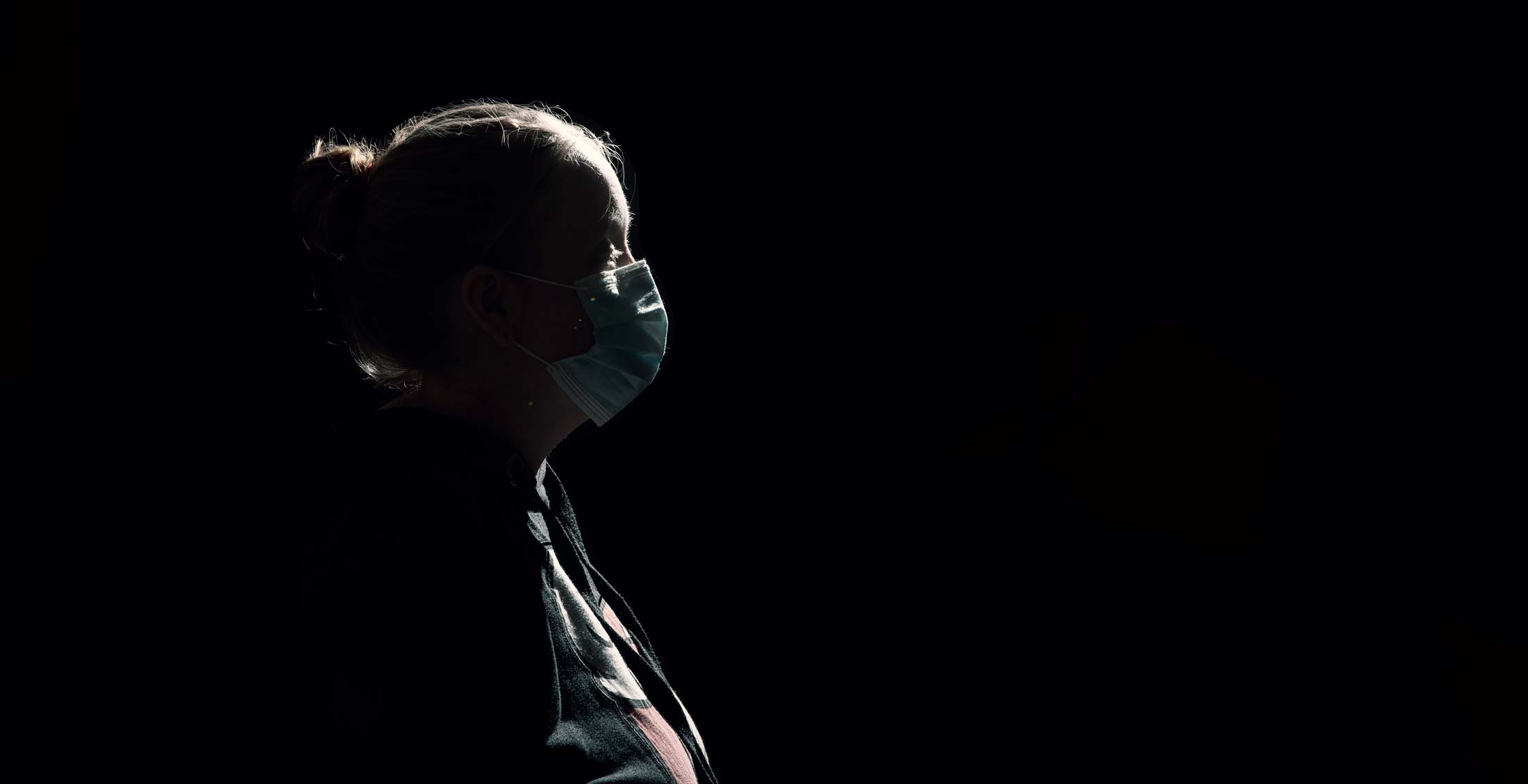 Visit the Linden Projects Space to explore this group exhibition that examines the lockdown experience through the work of three artists working with textiles. The works explore the physical and psychological impacts of being confined.
This exhibition has been extended and is now on show until 30 January 2022.
---
BOOK AN EVENT
---
MEET THE ARTISTS
> LINDEN POSTCARD SHOW WINNING ARTISTS
Join this year's Linden Postcard Show 2021-22 winning artists in conversation with our Curator, Juliette Hanson. Learn about their practice, artistic process, and their connection with the iconic Linden Postcard Show. There will be opportunities for you to ask questions and get involved.
WHEN          > Sunday 30 January 2022
TIME            > 11AM to 12PM
ACCESS      > Live on YouTube and FaceBook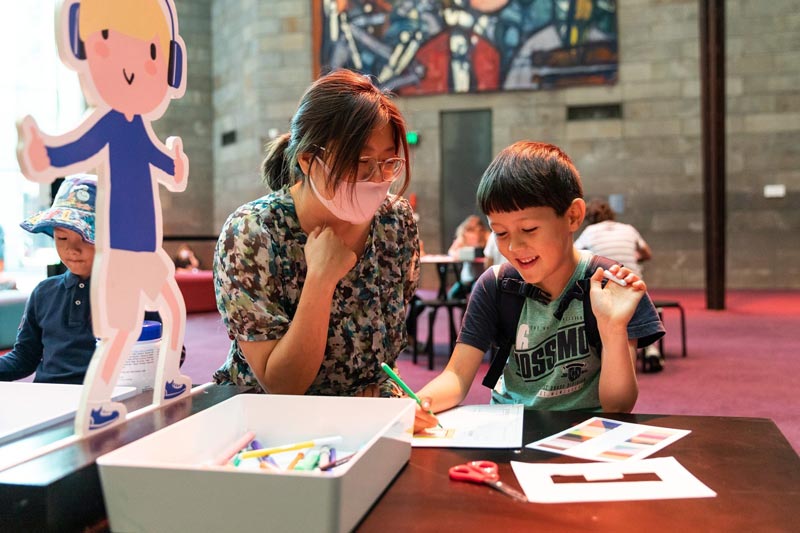 ON HOLIDAYS AT LINDEN > NGV KIDS ON TOUR
In partnership with NGV Kids on Tour, Linden is excited to continue our school holiday activities with take-home and online art packs and for all ages.
WHEN > 04 – 27 January 2022
TIME > 11AM – 4PM
ACCESS > Pick up a pack onsite and explore online
COST > FREE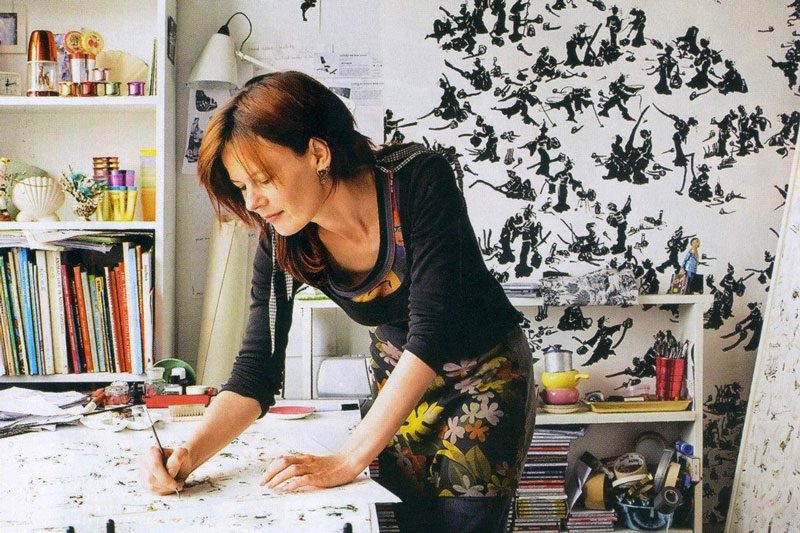 MEET THE ARTIST > ANNA HOYLE
Join curator Juliette Hanson for a lively conversation with Melbourne-based artist Anna Hoyle about her recent work in Your choc-mint pelvik floor is so boring. In this exhibition Hoyle presents a collection of 'fictional' book paintings and works on paper that have been inspired by social trends such as the self-help book and the wellness industry. Hoyle's work also addresses issues related to consumerism and the environment with an ironic and sometimes absurd approach that combines comedy and tragedy in equal measure. There will be plenty of opportunity to ask questions and get involved in this live event at Linden New Art.
WHEN > Thursday 24 February 2022
TIME  > 6.30PM to 7.30PM
ACCESS  > Onsite at Linden New Art
COST > FREE
---
LINDEN'S VOLUNTEERS SHARE THEIR FAVOURITE POSTCARD SHOW ARTWORKS
---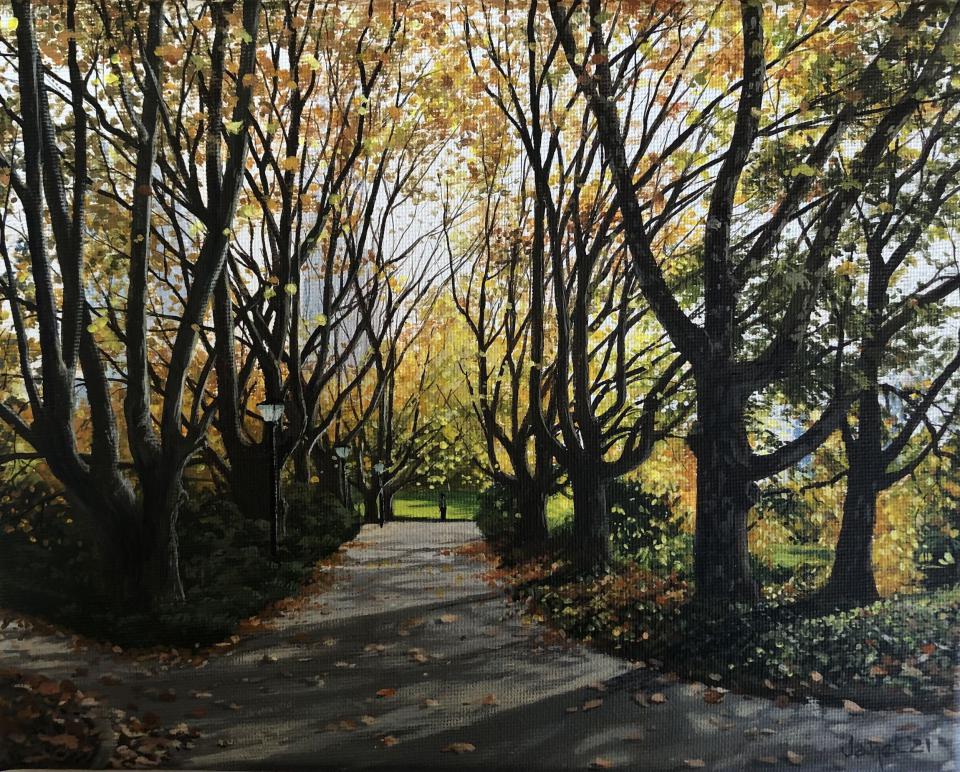 Sakshi shares why she was drawn to Janet Green's – Autumn, Alexandra Gardens. Vic. 'This one really piqued my interest and urged me to achieve that level of precision someday. So yes, very inspiring for me.'
Nina's favourite is by Daine Quick and is titled 
Hiking Larapinta I.
Emily's favourite is by Uma Barry and is titled 
Gum Study I 
---
IN THE NEIGHBOURHOOD
---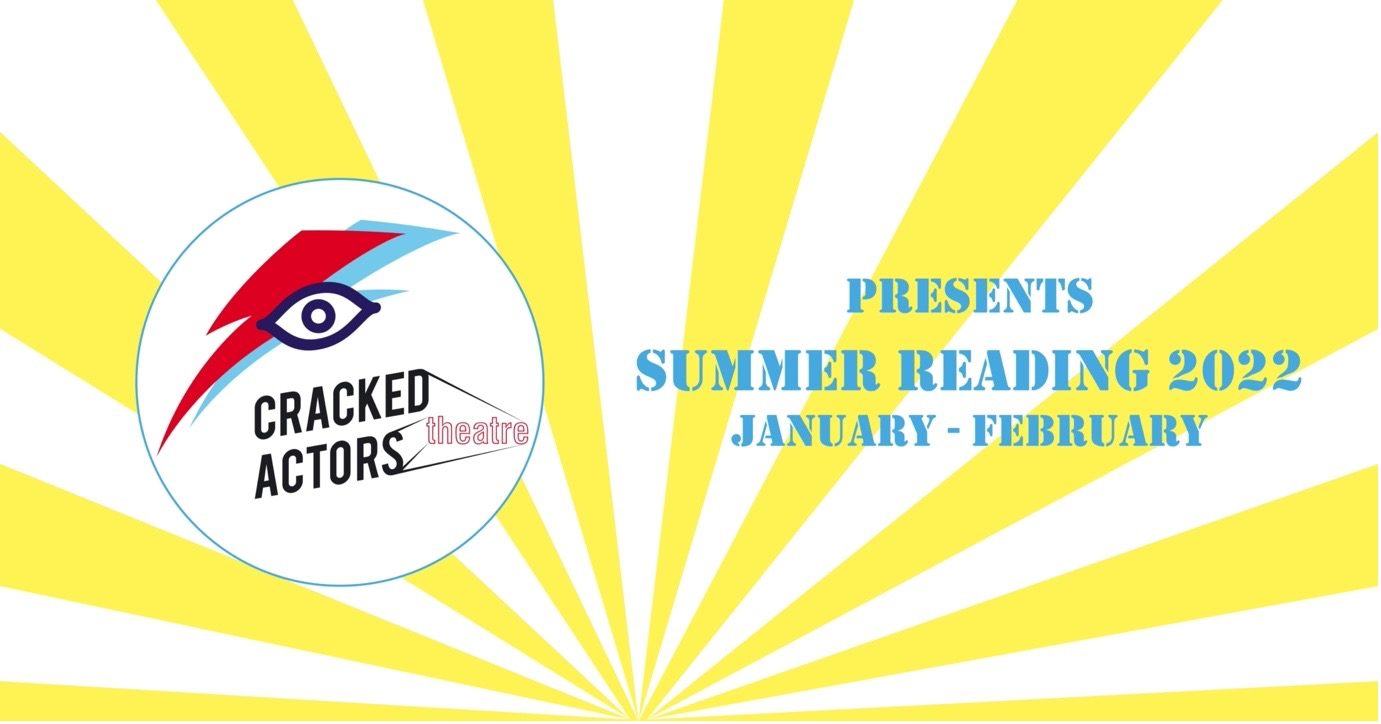 Summer Reading at Cracked Actors Theatre
Cracked Actors Theatre are offering writers a chance to have their full length play produced by Cracked Actors. Some of Australia's best established and up and coming writes will be featured at this event. Book your tickets now to witness the starting block of some incredible local theatre.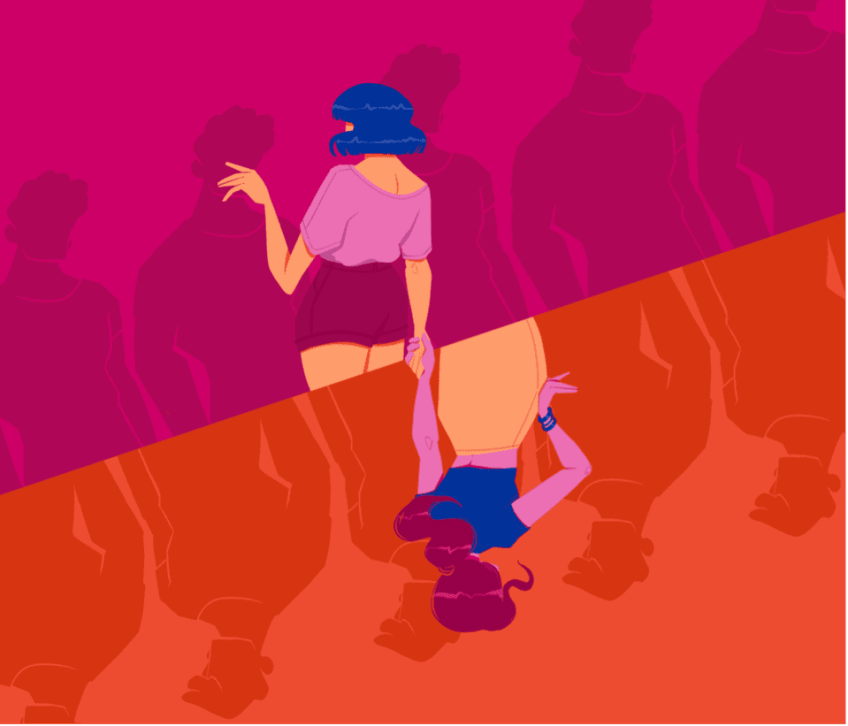 Queer Playwriting Award Showcase
Join Gasworks for 2 unique nights of queer-focused theatre featuring fresh 15 minute excerpts from the 2022 Award finalists. The 4 winners will receive support to develop their work for presentation at Gasworks in Midsumma Festival 2023. Experience new work, engage with new playwriting talent and have your say in the 2022 Award selection.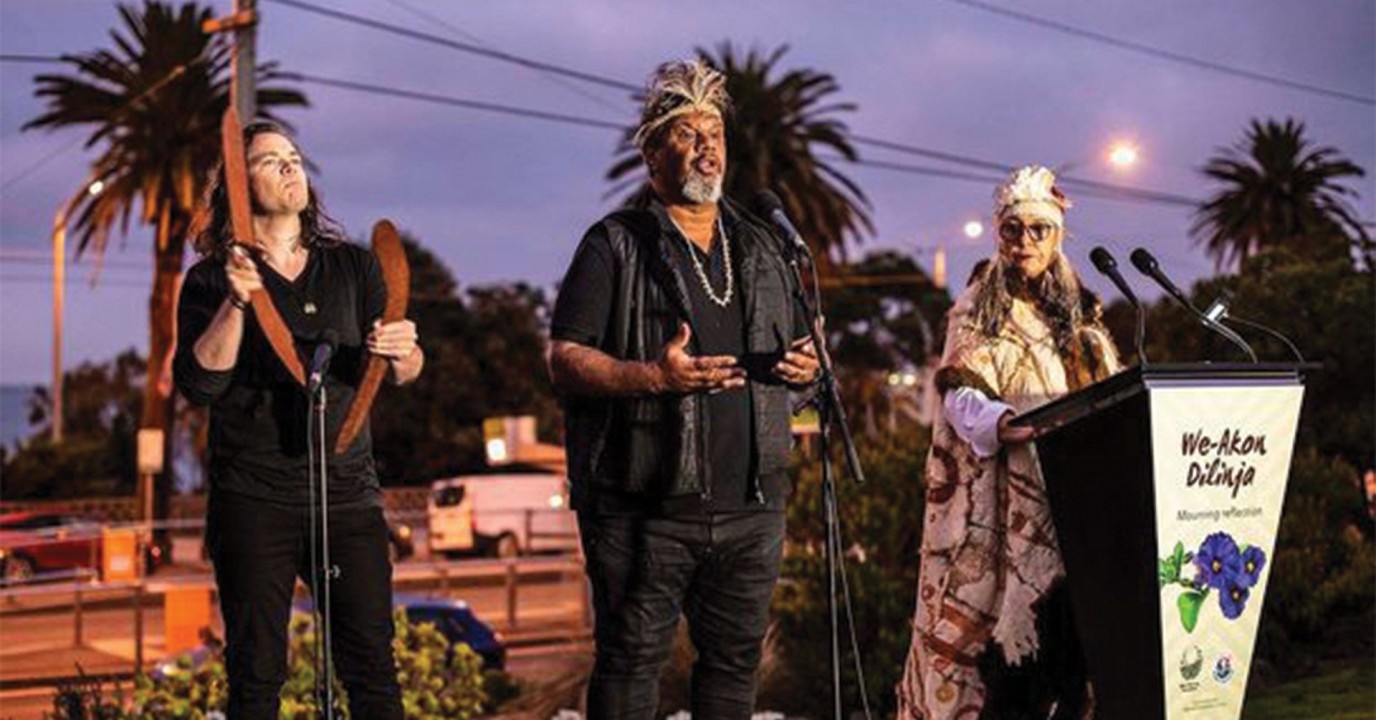 We-Akon Dilinja
 – a mourning reflection
The City of Port Phillip is supporting We-Akon Dilinja – a mourning reflection event at Alfred Square. The event brings the whole community together to commemorate and celebrate the rich, diverse culture of the First People of this land. This ceremony will recognise the journey and experience of the Yaluk-ut Weelam clan of the Boonwurrung people and language group.
WHEN > 26 January 2022
Meditate in the Garden
Another local mindful activity can be found in the St Kilda Botanical Gardens. Conducted every Tuesday, these meditation classes encourage participants to pause, switch off and to enjoy the calmness of nature. The classes aim to make meditation accessible and tickets can be purchased for $15 via this link:
---
 THINGS THAT MADE US HAPPY
---
Minister for Health the Hon Martin Foley recently visited the gallery to meet the winner of the Member for Albert Park Award Alan Cotton.
Linden's Volunteer Officer Ada Coxall has been taking photographs of the amazing sunsets we have been having in Melbourne, and we agree, they make us all happy.
A 
Linden Postcard Show
 artwork that has made us happy by Ruth Flaherty & its called 
– Happy Duck
---
WELLBEING SUPPORT
---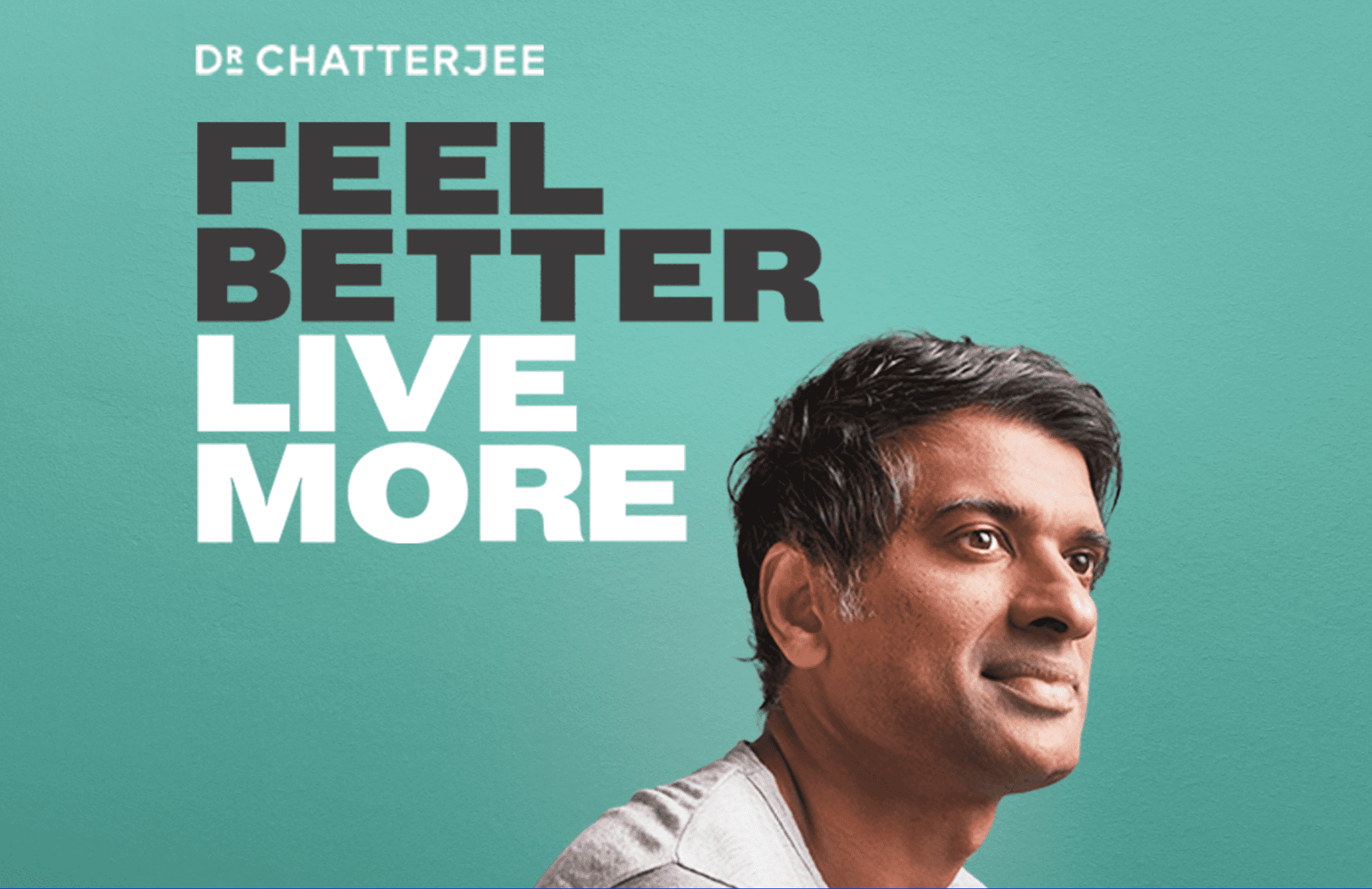 Feel Better, Live More with Dr Rangan Chatterjee
A thought-provoking podcast that provides manageable and practical advice on how we can move and relax more mindfully in order to live a healthier lifestyle.
Centre Clinic
Centre Clinic is a LGBTI general practice located on Fitzroy Street in St Kilda. The practice offers a safe and friendly space, promoting general heath and wellbeing.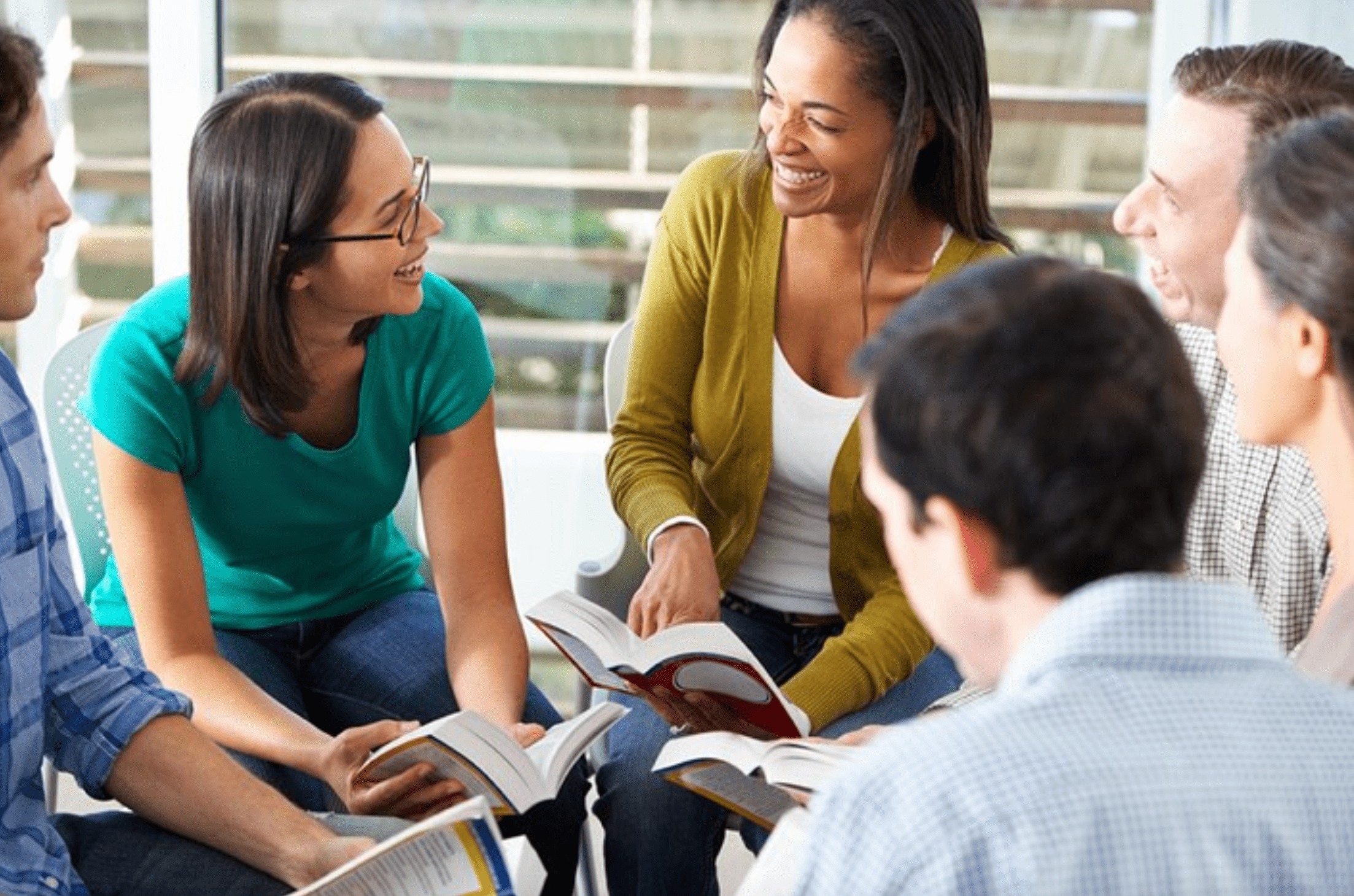 Library Book Club St Kilda
This adult book club, encourages people to share their love and passion for books. With sessions running once a month on either a Tuesday or Thursday, the meetings are a great way to engage in new ideas and is the perfect activity to promote a sustained mindfulness and sense of well being.

IMAGE CREDITS > Linden Postcard Show 2021-22 [installation view], 2021. Photograph: Theresa Harrison > Anna Hoyle > Your choc-mint pelvik floor is so boring [installation view], 2021. Image courtesy of the artist. Photograph: Theresa Harrison > Hernan Lopera, Confined, 2021. Image courtesy of the artist. > Meet the  Artist – Linden Postcard Show Winning Artists. Photograph: Shelley Xue > A family at Kids Summer Festival 2021 Photograph: National Gallery of Victoria, Melbourne. > Anna Hoyle in her studio. Photograph courtesy Anna Hoyle. > Linden Postcard Show artworks: Janet Green, Autumn, Alexandra Gardens. Vic., 2021 > Diane Quick, Hiking Larapinta I, 2021 > Uma Barry – Gum Study I, 2021 > Image courtesy Cracked Actors Theatre > Image courtesy Gasworks Theatre > Minister for Health Hon Martin Foley and Winner of the Member for Albert Park Award Alan Cotton. Photograph: Melinda Martin > Melbourne Sunset. Photograph: Ada Coxall > Ruth Flaherty, Happy Duck, 2021 > Dr Rangan Chatterjee. Image courtesy https://drchatterjee.com/ > Centre Clinic. Image courtesy Centre Clinic website > Library Book club St Kilda image courtesy City of Port Philip website.
ADDRESS & CONTACT
Boonwurrung Country
26 Acland Street
ST KILDA VIC 3182
T > 03 9534 0099
E > gallery@lindenarts.org
W > lindenarts.org
LINDEN NEW ART & LINDEN PROJECTS SPACE
OPENING HOURS > FREE ENTRY
Tuesday to Sunday 11AM – 4PM
Closed Mondays & Public Holidays.
BOOK YOUR VISIT
In order to maintain a low number of visitors inside the gallery, we highly recommend to book your visit at Linden here.
COVID-19 VISITOR INFORMATION
In order to protect everyone's health and wellbeing, please read the COVID-19 Visitor information before visiting the gallery.
We look forward to seeing you soon.